SEWER & WATER LATERAL REPAIR/REPLACEMENT
Matt's Services LLC provides many types of repair or replacement methods of both the sewer and water laterals.  These include digging, pipe bursting, or spot repairs.  We are a Licensed Utility Contractor that can do all the outside work needed to repair or replace your sewer or water lateral.  We work with local plumbers, who would provide all the services inside.  Matt's Services will camera the pipe to find the issues inside and also locate the problem area outside to avoid digging up the entire pipe unless necessary.
CLOGGED LINES
If you have ever flushed a toilet and had it overflow, take a shower in standing water, or have what you flush come up another drain, you have a clogged drain line. Common causes of clogged sewer or drain pipes are food, hair, paper/waste materials, tree roots, age related wear and corrosion or back pitched underground drainage piping. Upon determining of the exact cause and obstruction of the sewage back-up and stoppage, Matt's will discuss all possible permanent corrective solutions. We not only get results, but also give you answers to why your drain clogged and how to prevent it from happening in the future.
CAMERA LINE INSPECTION & LOCATING
Specially made fiber optic cameras allow for a visual inspection of underground sewer lines and other piping to determine the condition of the inside of the pipe.  By using infrared lighting to illuminate the inside of a sewer pipe, video images are transmitted to the camera operator allowing him to actually see the interior condition of the drain line. The operator will be able to tell if the issue is in a specific portion of the line, if there is an actual break (and the nature of that break), and any obstructions so the issue can be corrected in a cost effective manner.
Matt's Services is also able to locate the problem area outside of the building.  This allows us to pin point the exact location of the problem so that we can dig up only the problem areas, without having to dig up the entire pipe.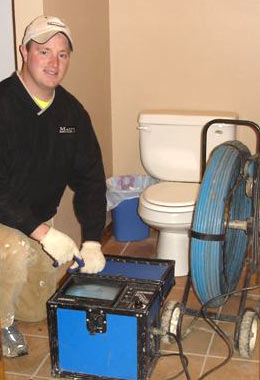 EXCAVATION FOR SEWER REPAIR
Matt's Services provides all on-site repair services, including any excavating needed. Our licensed and insured operators plan each excavation prior to digging, to ensure only what needs to be excavated is properly excavated. Matt's will handle the entire repair process including utilizing licensed plumbers and other subcontractors if necessary. Matt's will also provide lawn repair for the excavation site.